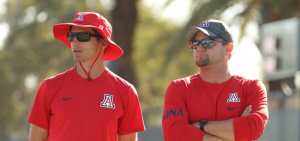 Welcome! We are excited about your interest in the W.C. Tennis Camp at the University of Arizona. Campers will have access to great facilities and a professional coaching staff dedicated to development and fun throughout their stay.
Campers can expect a combination of technical drills, situational point play for singles and doubles, footwork/conditioning, singles and doubles match play, as well as a team competition allowing campers to have a first-hand experience of what it is like to play on a high school/college team.
Our camp is open to players ages 9-18, ranging from beginners to advanced high school and tournament players. With a knowledgeable and dedicated coaching staff, all players will be challenged to learn new concepts and refine technical skills.
Off the court, overnight campers will have a variety of activities to fill their evenings. These campers can expect an in depth tour of campus, dining in the student union, access to the student recreation center as well as the university's game room.
For more information and a sample itinerary of what campers can expect, please check the CAMPS page.